Welcome to the Phi Mu Family!
For the past 18 or so years you've been the primary influence in your daughter's life. You've pursued her best interests. The lessons that she learned from you will anchor her as she interacts with new friends, professors, and mentors at college. We're delighted that you've allowed us to share this time with her. You'll be pleased to know that our organization has pursued what is in the best interest of women for over 167 years.
The collegiate years are an active time. We're sensitive to the needs for a balanced approach to the academic and social demands of these years. Our membership development programming is a proven method to make the most of your daughter's time with Phi Mu.
As a Phi Mu your daughter will...
Make new friends
Phi Mu friendships are built around a common set of core values such as the pursuit of learning, responsible social behavior, and sisterly love for one another.
DEVELOP LEADERSHIP SKILLS
Opportunities to work with others abound at Phi Mu. Whether your daughter serves in an executive committee position within her chapter or as part of a committee planning a chapter event, we'll provide her with resources, training and mentoring to aid in her personal development.
Grow as a woman
We learn to build one another up toward achieving our personal best. That begins with agreed upon "right behaviors" including a zero tolerance policy against hazing in any form.
Serve others
Your daughter will be part of the only sorority corporate sponsor of the Children's Miracle Network as we work to raise awareness for childhood health concerns and support local Children's Miracle Network Hospitals.
Phi Mu families are so important to our sisters. They are our support system throughout our Phi period, intramural games, academics, and so much more. We invite our families to celebrate our Phi Mu sisterhood by hosting family events several times a year.
In August we invite our moms to a Mother/Daughter Tea just before Formal Recruitment. Our moms get a chance to talk to several girls in the chapter while enjoying refreshments and dessert.
In September the chapter hosts Family Day for Southeastern's first home football game of the season. Parent's and siblings enjoy BBQ, snacks, games and more while tailgating with family and friends.
Last semester the chapter also hosted Father/Daughter Cookout at the Phi Mu house. Our dads got a chance to see what Phi Mu is all about.
In order to help our parents better understand our bond in Phi Mu, we have a Parent's Association. This group of parents volunteers to help the chapter in any way they can. Our Parent's Association Chair also keeps them updated on chapter news with our monthly Newsletter, Alpha Psi Scoop.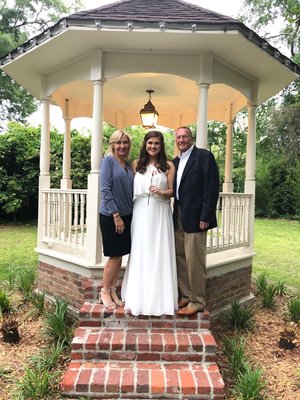 Need to get in touch with an Executive Officer? Our Executive Officers can be contacted here.